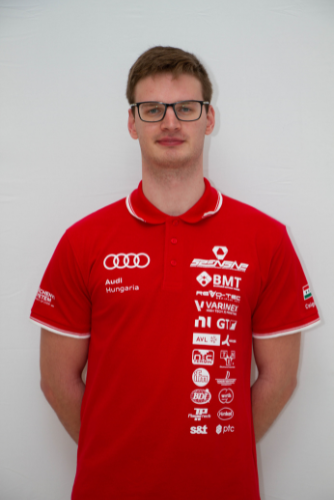 Joining time: 10.04.2019
Major: Vehicle Engineering BSc
Department: Testbench
Introduction:
I was able to spend my first 2 years in the team as a member of the test department, and since the fall semester of 2020/2021 I have been helping the brake bench department. As a tester, my main tasks included learning all the information related to the internal structure of the engine, developing it further, conducting all kinds of processes from engine assembly to test runs, and dealing with any problems that arose. Starting this year, I am responsible for the installation and maintenance of the engine on the brake bench.
Goals:
My individual goals in the team are to develop both personally and professionally. Here I can learn to work in a team and to know and let know that we can count on our colleagues. Being able to deal with a complete motorcycle gives me a huge boost in the professional field and I am happy that I can learn something new every day. This competitive sphere also helps to develop language skills recognized in the profession.
My goals within the team are exactly the same as the management's words, that we can be a world-renowned Formula Student engine development team.