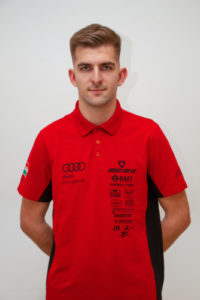 Joining time: 18.09.2022
Major: Vehicle Engineering BSc
Department: Testbench
Introduction:
I am a seventh-semester student at the Faculty of Mechanical Engineering at Széchenyi István University, studying in the Diagnostics specialization. I have been interested in cars since my childhood, and as I grew older, I became interested in how they work as well. I had heard about the SZEngine team during high school, despite studying in Székesfehérvár in that time. It was amazing and almost unbelievable to me that a racing team made up of only students could accomplish what they do on their own. Currently, I am a member of the team's testbench department. I chose this department because I am interested in the development of internal combustion engines, specifically the part that deals with a working mechanism and the improvement of engine performance through programmable engine management.
Goals:
My goal is to gain practical knowledge that will also benefit the team.