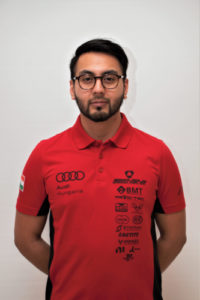 Joining time: 18.09.2022
Major: Vehicle Engineering MSc
Department: Hybrid Powertrain Development
Introduction:
My name is Giovanny and I'm from Ecuador. I'm a Mechanical and Automotive Engineer. Last year I started the Masters Program in Vehicle Engineering at Széchenyi István University and joined the SZengine Team. I´m very passionate about motorsport and I have previous experience in this field. My current task is focused on developing and wiring the different electronic devices necessary to command the combustion, hybrid and electric systems of different Formula SAE vehicles.
Goals:
To grow and update my knowledge on the new racing technologies, learn about the process of design, simulation, and fabrication of different mechanic components for high-performance engines, and
contribute well-engineered solutions to the team while building professional experience and relationships in order to find a job in the automotive industry or racing scene.