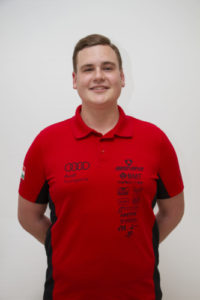 Joining time: 20.09.2019.
Major: Mechanical Engineering BSc
Department: Design
Introduction:
With a degree in mechanical engineering and 3 years of professional experience behind me, I came from Vojvodina to Győr, to István Széchenyi University. I applied to the team's design department in my first semester, and after a year I became the head of the department. It was a great honor to be included in such a large team. My current task is the design of the crankcase, coordination of the department and communication and contact with the companies.
Goals:
My goal is to learn everything and even more about internal combustion engines. I would like to lead the department even better, because this will only benefit me later. In addition, I would also like to deal with finite element and flow simulations. I want to be proficient in many more CAD software, which the team has given me the opportunity to do. My long-term plans are building relationships and improving my language skills.