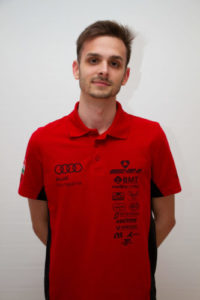 Joining time: 11.10.2021
Major: Vehicle Engineering BSc
Department: Thermodynamics
Introduction:
I am a third-year student studying vehicle engineering at the University of Győr. I joined the thermodynamics department of the team a year ago. My main tasks include designing and optimizing the racecar's exhaust system, particularly the exhaust manifold, as well as coordinating tasks and sub-tasks within the department starting this semester.
Goals:
My goal is to enhance my professional knowledge and gain experience in order to ensure the future projects are executed at the highest possible level.